Our service commitment is not a slogan but a firm action. To this end, we have established enormous, systematic, and standardized service assurance system to ensure timely and proper handling of each service item.
Reply to technical consultation
Dispatch engineers domestically/abroad
Handle complaints thoroughly
150+Service Persons Waiting for You
According to ThoYu's business coverage, we have established strong engineer teams and divided them into several parts according to the businesses, including the mechanical design team, product development team, debugging team, and after-sales service team. Each team consists of young, middle-aged, and old engineers, fully satisfying business requirements and fulfilling talent cultivation objectives.
At ThoYu, we adhere to the principle of providing each customer customized design solution. Relying on our sales managers' professional knowledge and our services throughout the life cycle of products, we help our customers get over their difficulties in equipment procurement, operation cost accounting, operation management, and after-sales service obtainment, thus improving their profit-making capability and realizing sustainable development of business.

Design scheme

Profit calculation

Operation management

Services
20+ After Sales Visit Team
Integrating R&D, production, distribution, and service, ThoYu attaches great importance to communication with customers. We have established an after-sales visit team consisting of more than 20 people. On the one hand, they timely solve the problems that our customers encounter; on the other hand, they collect feedback and improvement recommendations from our customers, to correctly orient our development and research.
○ Starting the mode of the Internet of Things (IOT) to assist our customers in regular testing and commissioning and to provide technical instructions.
○ Providing services covering the whole life cycle of project to avoid turning backs on customers' needs after projects are put into operation.
Wherever you are, domestically or abroad, you can contact us at any time because ThoYu has established an online consultation service team consisting of more than 20 persons who provide 365 days×24 hours services for customers.

24h full-time service
We provide comprehensive trainings for the technicians of each project. We can also continue to provide support for the technicians during latter project operation. Tracking utilization results of equipment is also the responsibility of the training lecturers to ensure smooth operation of projects. The trainings include:
Trouble judgment & removal
Complete Procedure--- from Order to Machine Delivery
Division Of Labor Makes Us More Professional
ThoYu has established a complete management system from initial consultation, solution design, on-site visit, machine preparation and shipment to after-sales feedback, to effectively ensure rapid and timely transmission of information so that the specialized services and technical supports can be provided by the correct persons at the correct time.
Four Steps Ensuring Safety And Efficiency Of Machine Preparation And Shipment
Keeping in mind a Chinese old saying that "Jade must be cut and chiseled to make it a useful ware" (a person must be disciplined and educated to be a useful citizen), ThoYu has always been upholding the spirit of craftsman at every stage, especially for the stages of machine preparation and shipment.

Checking order
With the sales contract, the order tracking clerk checks the models and quantities of machine and spare parts for machine preparation.

Quality test before delivery
Upon completion of the manufacturing of equipment, the quality inspector strictly checks quality of every machine with the checklist.

Check items when packing
Before packaging and shipment, the order tracking clerk checks the packaged items again with the packing list to avoid loss of items.
Packaging and transport
Professional packaging and modular solution of transportation guarantee the safe and smooth delivery.
Specialty Installation & Commissioning Ensuring Successful Acceptance Of Production Line
Depending on customers' needs, ThoYu's installation engineers can provide on-site guidance in infrastructure construction, equipment installation and commissioning, as well as trial operation of entire production line. If technical items meet the design criteria, the customer will sign the certificate of conformity.
Installation preparation stage
Checking the purchase order; counting the items with the purchase order; checking the dimensions including evaluations of the items with the drawings.

Equipment installation stage
Install the main equipment and accessories according to the installation drawing.

Equipment commissioning stage
Check the equipment again. Before putting the project into use, the commissioning is done to ensure the operation meet production demands.

Project acceptance stage
Provide the certificates of conformity and test reports for main materials as well as the documents of equipment (user's instructions, certificate of conformity, etc).
Terms of Warranty
ThoYu provides a half-a-year quality warranty for its products, excluding vulnerable parts (Customers can have faulty products repaired, replaced and returned for free.) Direct expenses related to the warranty, such as, freights, charges of spare parts, and expenses for accommodation of warranty technicians shall be borne by Party B or by subtracting them from the contract specified payment for goods. Party A shall not be liable for the above-mentioned expenses and any indirect losses beyond the contract. However, Party A must dispatch technicians for instructions when Party B is responsible for the expenses for accommodation of technicians.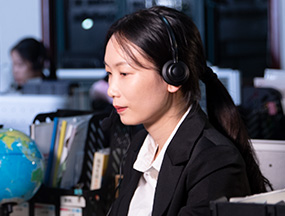 One-year quality warranty
For its crushers, sand-making machines, mills, and mobile crushing plants, SBM provides a one-year warranty which becomes valid after acceptance inspection of projects. To apply for warranty, the users shall present the invoices and vouchers of warranty. The expenses for repairing the damages caused due to quality problems of the machines shall be borne by SBM. For details, please refer to SBM Installation Confirmation Voucher, and SBM User Information Card.
Complaint Handling System Ensuring Rapid And Proper Handling Of Complaints
For complaints about production line operation from customers, we undertake to complete problem identification and solution offering within 24 hours, and solve the problem within 3/10 days for domestic/foreign customers.
24-hrs identifying problem
3-10 days solving problem
Global service outlets remove your difficulties fast
Division of labor makes us more professional
ThoYu has established a complete management system from initial consultation, solution design, on-site visit, machine preparation and shipment to after-sales feedback, to effectively ensure rapid and timely transmission of information so that the specialized services and technical supports can be provided by the correct persons at the correct time.
Why Are We Acknowledged as STRONG?
Manufacturing strength
300,00 m2 manufacturing base
2 heavy-duty modernized manufacturing and assembly workshops
Nearly 50 sets of domestically  manufacturing machines
Processing ability
Ageing process is adopted. Precision tools are utilized.
Advanced processes are designed from research & development to quality inspection. Great importance is attached to both standard operations and on-site improvement.
Standardized manufacturing workshops
Running independently
plastic and wood pallet equipment manufacturing base\Large industrial equipment manufacturing base
Manufacturing base of mobile crushing plant
Quality inspection
Precise tools for quality inspection
We are dedicated to the development and research of high-end crushers and mills and provide customers with high-quality products and services.
Laboratory
To provide better services for customers and to faster remove the difficulties that customers encounter, ThoYu has established its own laboratory, which can provide two kinds of services: analyses of physical and chemical properties of ores, and tests of ore processing. Analysis services include ore sampling, multi-element analysis, optical spectrum semi-quantitative analysis, X-ray diffraction analysis, and phase analysis. Test services include crushing test, grinding test, gravity separation test, magnetic separation test, flotation dressing test and cyaniding.